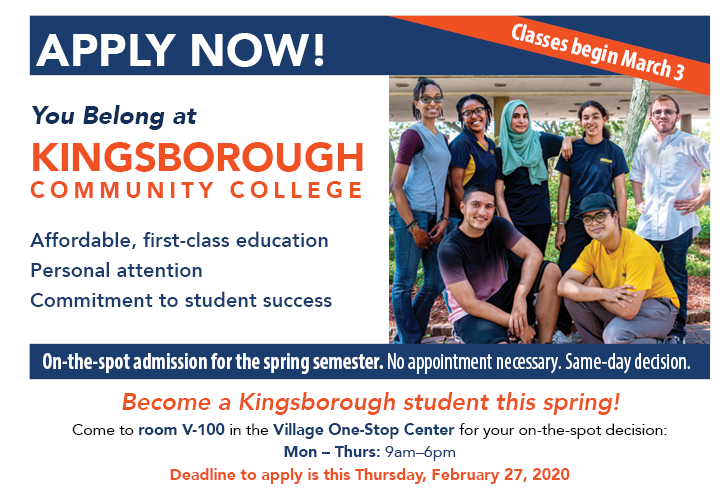 All applicants must bring:
Official high school transcript (not opened) stating graduation date or original GED/TASC diploma with scores attached. DOE applicants can use their 9-digit OSIS number to retrieve high school transcripts electronically.
Application fee: $65 for freshmen (no college or university background); $70 for transfer students (students who have attended college/university or other programs). Credit/debit cards or check/money order (payable to UAPC) only. No cash.
Proof of MMR immunization (mumps, measles & rubella) if born on or after January 1, 1957.
In addition to the above:
Transfer Students must provide official college transcripts for ALL colleges/universities previously attended or currently attending. If you currently have access to your official transcripts, email them to sendtranscript.2kcc@kbcc.cuny.edu.
International Students (freshmen or transfer applicants with foreign documents) who wish to have an on-the-spot admission decision for spring 2020 must first have their documents translated and evaluated, for a fee, by either Josef Silny & Associates, Inc., International Education Consultants (www.jsilny.org) or Transcript Research (www.transcriptresearch.com).


PLEASE NOTE: UAPC will make the final decision regarding evaluations and admissions recommendations.