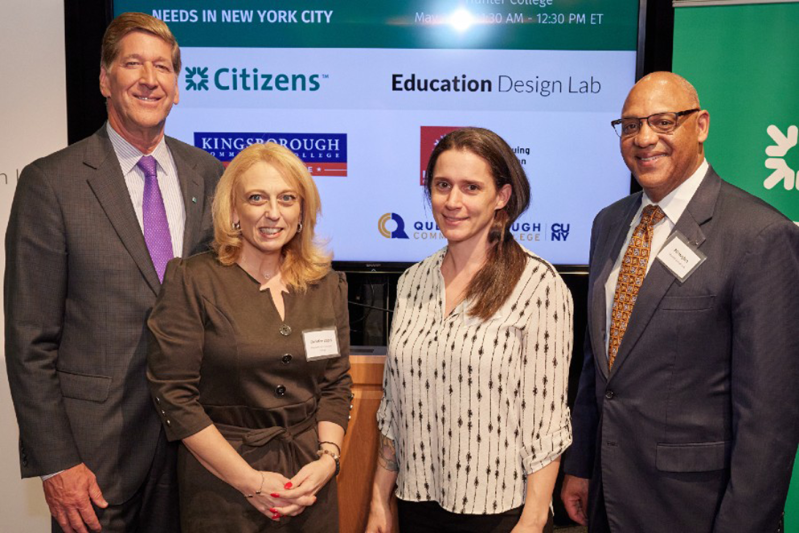 KCC to Receive $100,000 in Funding from Citizens Bank As It Expands EDL Investment to Benefit CUNY Community Colleges
BROOKLYN, NY – Kingsborough Community College (KCC) will receive $100,000 in funding from Citizens Bank as a part of an additional $400,000 investment in the Education Design Lab's Community College Growth Engine to benefit CUNY community colleges. Along with KCC, CUNY community colleges also receiving $100,000 each are LaGuardia, Borough of Manhattan and Queensborough.
As a result of Citizens' investment, each of the participating CUNY community colleges will develop two to three additional micro-pathways in concert with local employers in high-growth industries that are aligned with regional labor market demand. The project also aims to fortify regional economic stability in New York City and other participating communities while benefiting local employers through an increasingly diversified workforce.
The Division partnered with EDL for the past three years, creating and offering micro-credentials in UX Design and Health Coaching. "It is an exciting time to continue our partnership with the Education Design Lab (EDL) to prepare students for a career in tourism and hospitality as the industry expands in New York City," said Dr. Simone Rodriguez, vice president of Workforce Development, Continuing Education & Strategic Partnerships at Kingsborough Community College. This new funding will allow the Division to create a new micro-credential pathway in Hospitality and Customer Service to be offered free to participants in the fall of 2023.
This investment, combined with a prior contribution of $400,000 to bring the program to Bunker Hill Community College in Boston and the Community College of Philadelphia, plus a new investment of $200,000 for the Community College of Rhode Island, brings the total funding of EDL through the Citizens Community College Accelerator to $1 Million.
The U.S. Department of Agriculture's (USDA) National Institute of Food and Agriculture (NIFA) awarded KCC a $250,000 grant to launch "Hydroponics at Kingsborough Community College," an innovative new program to help students gain access to new green careers.
KCC biology major Nawel Messaoudi and class of 2022 salutatorian Beth Rocco are among the six students selected from among 300 applicants CUNY-wide to receive 2023-2024 Belle Zeller Scholarship Awards this year.
KCC chemistry professor, Dr. Homar Barcena, has received a Fulbright U.S. Scholar Program research award to study arboviral diseases such as dengue and chikungunya fevers in Association of Southeast Asian Nations (ASEAN) countries where they are endemic.