Thomas Eaton
Temporary Building 5
Art
Contact:
Phone: (718) 368-5934
Email: Thomas.Eaton@kbcc.cuny.edu
Office Location: T-551, Temporary Building 5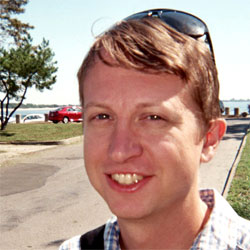 Biography
Tom Eaton creates comics and animation in Brooklyn. He's worked on animated television series for Cartoon Network, PBS, the Disney Channel, and Nickelodeon. His original animated short film "Don't Smash" is a crowd-pleaser with kids, winning the Audience Award in Brooklyn's 2008 kidsfilmfest, as well as the Gold Award in Preschool at the 2008 Chinh India Kids Film Festival. He's also animated music videos for Details.com, Sufjan Stevens, and the Danielson Famile.
Courses
Art 96: The Art of Animation
College Teaching

Queens College - CUNY
Cooper Union School of Art
Related Links