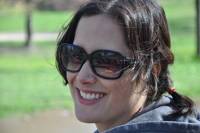 Annie Del Principe, Asst. Professor, is honored to have been a member of the full-time faculty at Kingsborough since 2004. She has served as the Director of the Freshman English program (English 12 and 24) since 2007, a position which taps into her professional interest in and dedication to college writing instruction and teacher development. Before joining the faculty at Kingsborough, Annie taught pre-service teachers in the Department of Teaching and Learning at New York University and taught Freshman Composition for several years at Sacred Heart University in Fairfield, CT.
In addition to serving as the Director of the Freshman English Program, Annie is a member of the Kingsborough General Education committee and of the committee for the President's Innovation Award. A passionate and creative teacher of Developmental and Freshman reading and writing courses, she is also the Associate Editor of CUNY's Journal of Basic Writing.
Courses
English 12
English 24
English 91
Education
Ph.D. in English Education, NYU
M.A. in English, University of Wisconsin at Madison
B.A. in English and Women's Studies, Marquette University
College Teaching
Kingsborough, CUNY
New York University
Sacred Heart University
Selected Publications and/or Other Resources
Del Principe, Ann. "Variations in Assessment, Variations in Philosophy: Unintended Consequences of Heterogeneous Portfolios." Teaching English in the Two-Year College, 38.1, September 2010: 6-21.
Del Principe, Ann. Janine Graziano-King. "When Timing Isn't Everything: Resisting the Use of Timed Tests to Assess Writing Ability." Teaching English in the Two-Year College, 35.3, March 2008: 297-311.
Del Principe, Ann. "Paradigm Clashes Among Basic Writing Teachers: Sources of Conflict and a Call for Change." Journal of Basic Writing 23.1 (Spring 2004): 64-81.
Research Interests
Writing Assessment, Basic Writing, Community College Literacy experiences, curriculum change in higher ed
Awards Recognition, Distinctions and Grants
Several PSC CUNY awards
2011-2012 President's Innovation Award, Kingsborough CC CUNY
Mark Reynolds TETYC Best Article Award. "Variations in Assessment, Variations in Philosophy: Unintended Consequences of Heterogeneous Portfolios" (TETYC, September 2010)
Institutional Affiliations / Professional Societies
Associate Editor for JBW, the Journal of Basic Writing
Member of:
National Council of Teachers of English

TYCA, the Two-Year College Association

AERA, the American Educational Research Association

WPA, Writing Program Administrators

MLA, the Modern Language Association

Association for the Contemplative Mind in Higher Education
Personal Interests
Yoga
Vegetarianism and sustainable foodways
Camping
Urban biking
Swimming
DIY in almost all forms
Related Faculty
Harold Connolly (Learning Communities teaching partner)