KCC's FIRST-EVER VIRTUAL 50TH REUNION
The attendees of the first-ever virtual 50th reunion may not have been many, but they were mighty! Six alumni from the Class of 1971, KCC's sixth graduating class, joined us virtually on May 20 for a special recognition of the 50th anniversary of their graduation from the college. The virtual forum allowed alumni from California, Florida and North Carolina to join diehard NYC residents with ease. The illustrious careers of the attendees stemmed from education, entertainment, IT, marketing and mental health.
The guests recounted fond memories of KCC as they virtually viewed pictures from the 1971 yearbook, which included the campus, faculty and staff, graduates, and special events such as a visit from the iconic and legendary boxer, Muhammad Ali. The alumni, especially those who have not visited KCC in decades, enjoyed viewing a slide show of the beautiful campus as it is today and were amazed at its transformation.
As so many alumni do, the attendees also shared how particular KCC professors helped them find their calling, courage and inner strength. Andrew Weyman, '71 still remembers a quote his professor, Samuel Ceccarelli, shared with him that inspired him immensely – "Being human, nothing is foreign to me. We are all capable of achieving great things."
Thanks to KCC professors who make a difference in the lives of our alumni. Thanks to our alumni who make a difference in the world. Congratulations to the Class of 1971!
---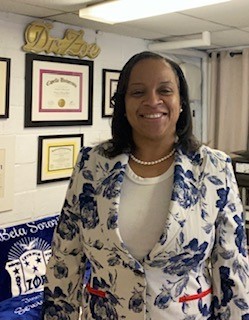 Alumni Spotlight – Dr. Zodelia Williams, '98, DSW, LMSW
This spring, KCC is honored to introduce alumna Dr. Zodelia Williams as the keynote speaker for the Dean's List Ceremony.
Affectionately known as Dr. Zoe, she is the Founder/Executive Director of 3 D's Aftercare Inc., 3 D's Empowerment Circle, LLC and 3 D's Community Empowerment Center I and 3 D's Community Empowerment Center II. Dr. Zoe believes that all children have the right to be free from circumstances or challenges that hinder their development. She is dedicated to encouraging children and giving them the tools to make their dreams come true. Her lived experiences with challenges and triumphs as a single parent of three are sources of motivation and inspiration.
"Who would have imagined that this transplant to Brooklyn from Panama, who gave birth to a son at age 17 and a daughter 17 months later, would defy the odds and change the narrative that she was not supposed to make it?"

- Dr. Zoe, reflecting on her remarkable journey.
Like many KCC alumni, Dr. Zoe appreciates the profound difference the college made in her life. She compares her KCC experience to a "fairy tale," where guardian angels and wise mentors appeared in the form of dedicated faculty and staff. Thanks to the support and instruction she received, the future Dr. Zoe emerged as a student leader, serving as the President of the Public Health Council, the President of the Mental Health Club, the President of the Community Health Club and a Peer Advisor. She further credits KCC for instilling within her a "foundation of priceless beliefs and values" that guides her to this day.
"This KCC fairytale has taken me on a road that was paved for me, and now for you, and for others to walk on. My only ask is that you don't forget to pave the road for others to follow."

- Dr. Zoe's message to today's KCC scholars. (Click here to view Dr. Zoe's video message.)
---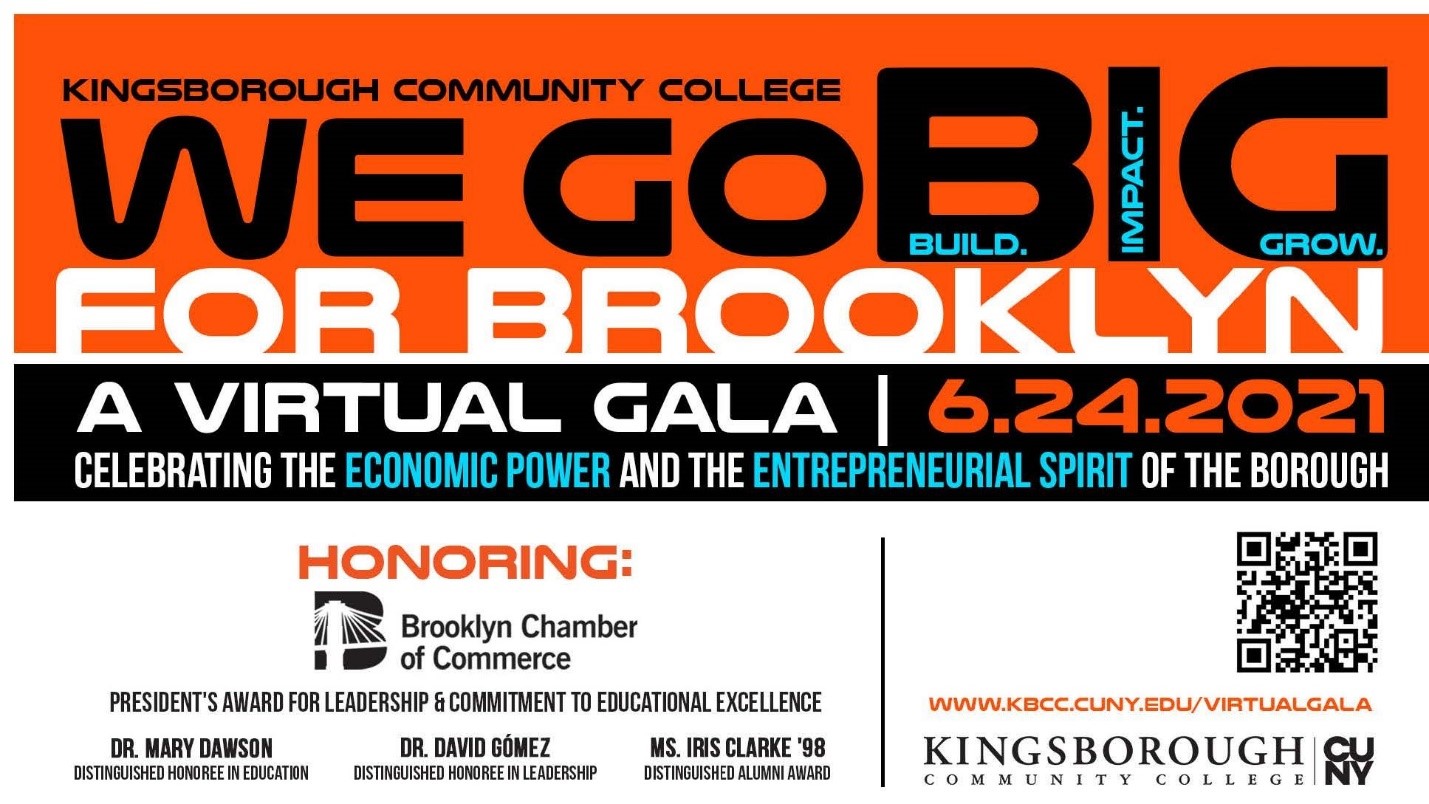 KCC's FIRST-EVER VIRTUAL FUNDRAISING GALA
KCC's 2021 Virtual Gala on June 24, focused on how we as a community support each other. We went BIG for Brooklyn and highlighted the many businesses that have supported Kingsborough over the years, and how their support benefits our students in profound ways.
KCC proudly honored Randy Peers, President and CEO of the Brooklyn Chamber of Commerce, for his stellar leadership and advocacy for the borough's business community. Other honorees included Dr. David Gomez, former Vice President at KCC and recently retired President of Hostos Community College; Dr. Mary E. Dawson, Professor and Chair of the Department of Biological Sciences at KCC, and alumna Iris Clarke, '98, owner of the New York Times-featured Iris Lingerie on Atlantic Avenue in Brooklyn.
It is not too late to make a donation and invest in the future of Brooklyn by providing critical financial support for KCC students! View the Virtual Gala and make your mark here.
---

KCC Named a "Center of Excellence" for
Domestic Maritime Workforce Training and Education
Founded in 1963, KCC occupies a Brooklyn peninsula that once hosted the Sheepshead Bay Maritime Training Center for Merchant Marines, Coast Guard and Navy and the Manhattan Beach Air Force Station. The sea flows through the college's DNA, and is most evident in the college's stellar Maritime Technology Program, the only program of its kind in the five boroughs.
Fortunately, KCC's rich maritime legacy is not going unnoticed.
On May 19, 2021, the U.S. Department of Transportation's Maritime Administration (MARAD) named KCC one of 27 Centers of Excellence for Domestic Maritime Workforce Training and Education (CoE) nationwide. The CoE designation recognizes community colleges and training institutions that prepare students for careers in our nation's maritime industry.
"Our collaboration with these institutions represents an important expansion of MARAD's role in supporting maritime education and will help form pathways to good-paying American jobs in our nation's maritime industry," said U.S. Transportation Secretary Pete Buttigieg.
KCC's was the only maritime program in New York State to receive this CoE designation. Click here for the full press release from MARAD.
---