Alumni newsletter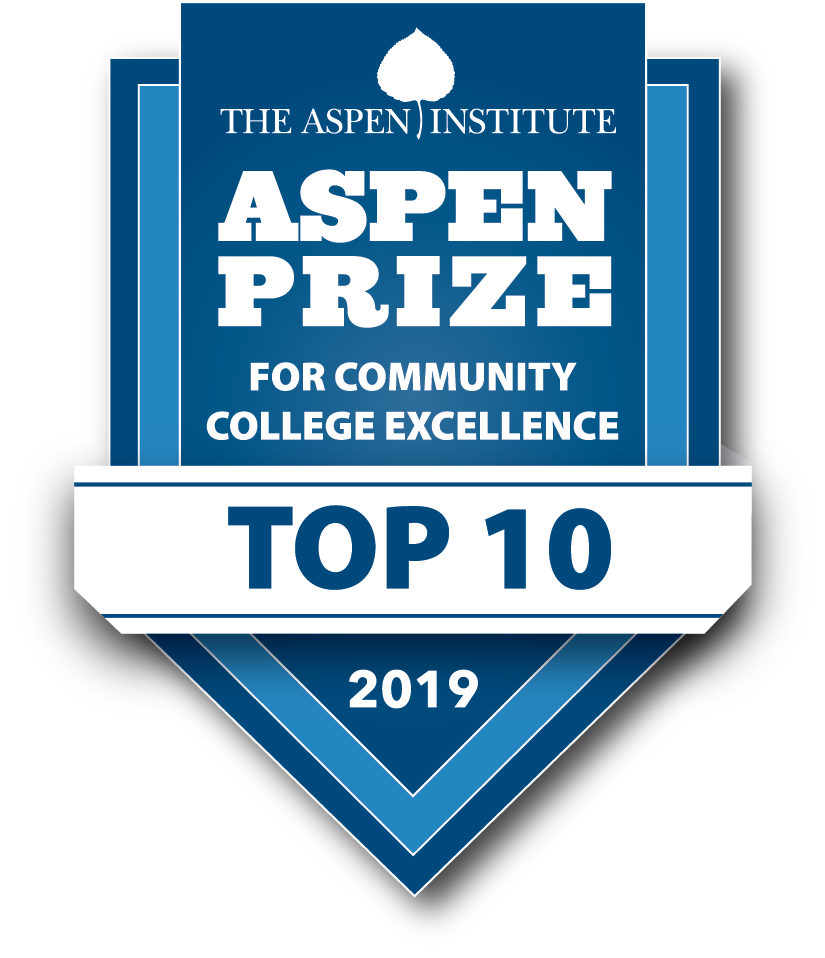 Back on Top: KCC Identified as an Aspen Prize TOP 10 Community College (2019)
by the Aspen Institute College Excellence Program
In 2013, the Aspen Institute named Kingsborough Community College (KCC) one of the top 4 community colleges in the entire country. This year the Aspen Institute has once again named us as one of 10 community colleges eligible to compete for the $1 million Aspen Prize for Community College Excellence.

As the nation's signature recognition of high achievement and performance among America's community colleges, the Aspen Prize recognizes institutions with outstanding outcomes in four key areas: learning; certificate and degree completion; employment and earnings; and high levels of access and success for minority and low-income students.

I am pleased that the outstanding work of our faculty, staff and students is being recognized once again by this prestigious institution, says Interim President Peter M. Cohen. KCC was selected from a pool of more than 1,000 public two-year colleges nationwide using publicly available data on student outcomes.

The grand prizewinner and other notable distinctions will be named in spring 2019. Go KCC!

Click here to read the full press release from the Aspen Institute.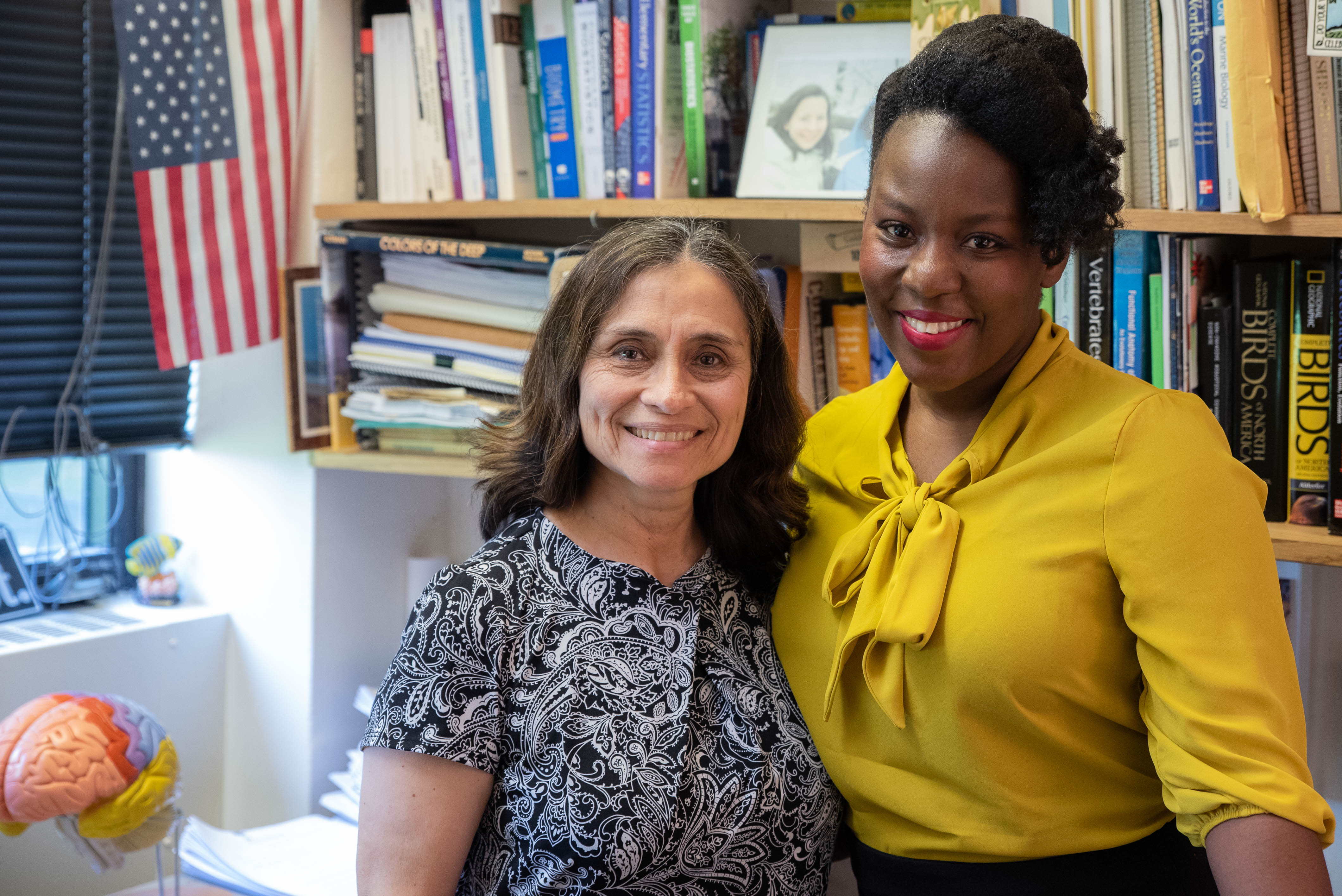 A Lifelong Friendship: Dr. Mary Ortiz and her former student, Dr. Kinta Alexander
When she first set foot on her new college campus, Kinta Alexander was 16 years old and a long way from her native Union Island. Little did she know that she would soon find a second home in Kingsborough Community College, and a lifelong friend in her biology professor.

From the first day of Professor Ortiz's class, I could tell that I was embarking on a special journey, says Dr. Alexander, who currently works as Manager of Infection Control at Mount Sinai Brooklyn. Alongside a close-knit and diverse group of peers, she broadened her knowledge of biology through stimulating activities that often took her outside of the classroom entirely. As a native of a small, 3.5 mile island in the Caribbean, I am most at home surrounded by water, she says. So I loved it when our biology class went on boat trips through Jamaica Bay to collect water samples.

Above all, though, it was Professor Mary Ortiz who made the critical difference in her KCC experience. I never knew that a professor could be so invested in her students success before I met Dr. Ortiz. She has so much intellectual firepower, while at the same time she works overtime to develop strong bonds with her students. She really cares!

If the future Dr. Alexander saw in Dr. Ortiz a powerful and accessible role model, then Dr. Ortiz saw in Kinta the reason she became a teacher in the first place. Even in a class of strong students, Kinta stood out right away, she says. Since KCC, Dr. Alexander has mirrored her mentor's drive and passion, ultimately earning her doctorate in Public Health from New York Medical College in 2015.

My grandfather always said that we grandkids needed to be twice as successful as he was in life, says Dr. Ortiz. I feel the same way about my students and my desire to see them succeed. As a result, she has looked on with tremendous pride at Dr. Alexander's career, while also relishing their lasting friendship. As a college professor, you tend to only know your students for a narrow window of time, and then they're gone. So it is a great joy to see the life and career Dr. Alexander has built for herself, especially knowing that her work is making the world a better place.
Parallel Journeys How Alumni Michael and Jamee Schleifer Found Themselves at KCC
(and Later Each Other)
Kingsborough Community College is known for providing unforgettable experiences. For Jamee 79, it is a collage of memories: walking across the seaside campus, learning from nurturing professors, listening to the college radio show and bonding with like-minded peers. For Michael, it was an English professor introducing him to eye-opening literature, and later, an opportunity for a career accountant to explore a second act as a sportscaster.

Though they did not attend Kingsborough at the same time, Jamee and Michael Schleifer bonded in part through a mutual fondness for their alma mater. Decades later, they continue to donate both their time and philanthropy to the college they know and love, and inspired their son, Gabriel, to enroll at Kingsborough as well.

I wasn t the greatest student at the time, but I felt at home right away, says Jamee, who in 2014 received the Brooklyn's Women of Distinction Award for her nearly 30-year career as a trailblazer in Hip-Hop Dance instruction. Now a retired public school dance teacher, Jamee, who also spent a sabbatical at KCC, still returns to the campus for events and shows, while continuing to give back to the college that had given her so much. All of the things I loved about KCC the diversity on campus, the supportive teachers, the sense of exploration among the students are still alive and well.

If KCC helped Jamee find a like-minded community, it helped Michael explore the full range of his interests. If it weren t for a wonderful KCC professor, I might have never been exposed to writers like Henry David Thoreau and Ralph Waldo Emerson, who have greatly influenced my life, says Michael, who has enjoyed a long and successful career as a CPA and 30-year CUNY professor and academic advisor at Hunter College. Later, while looking to broaden his horizons, Michael returned to KCC to enroll in broadcasting classes. There aren t many CPAs who have been President of the Thoreau Society, or had the opportunity to broadcast from Madison Square Garden, Yankee and Shea Stadiums, he says proudly. KCC helped me to live out my dreams. Twice.

Today, Jamee and Michael Schleifer are more than just proud KCC alumni. They are proud KCC donors. I believe in giving people opportunities, says Jamee, particularly those who otherwise wouldn t have the wherewithal or finances. Michael shares his wife's sentiment. Many students attending KCC do not necessarily have the support systems that Jamee and I had back when we attended, financially or otherwise. They need every bit of support they can get.
A Happy Homecoming
KCC's 13th Annual Homecoming Day - Back to the Beach was held on October 22nd and the weather couldn t have been better. Homecoming is a great opportunity for alumni (as well as current students, faculty and staff) to return to the college with their friends and family, enjoy a day of food, fun and entertainment, see some familiar faces and reconnect with KCC.

As always, Homecoming Day offered a wide spectrum of fun for all ages. Kids enjoyed the inflatable amusements, arts & crafts, face painting, balloon art, magic shows and picking their own pumpkins at the KCC pumpkin patch. Meanwhile, adults experienced a wide variety of KCC's academic programs such as Surgical Technology, Nursing, and Media Technology, tasted produce grown in our Urban Farm, enjoyed delicacies prepared by our Culinary Arts faculty and students, rode a trolley around campus and visited KCC's Aquarium & Fish Tank, Ship Simulator, Photography Lab, and Art Museum, where alumnus Allen Pierre's photography was exhibited. In addition to breakfast and lunch, guests enjoyed ice cream and kettle corn to top off a fun-filled day at KCC.

Whether you graduated KCC recently or decades ago, coming home to KCC on Homecoming Day always rekindles fond memories and truly should not be missed. Mark your calendar and join us Sunday, October 21, for Homecoming 2018!

For more pictures and a video of this unforgettable event, click on News, Events & Photos .