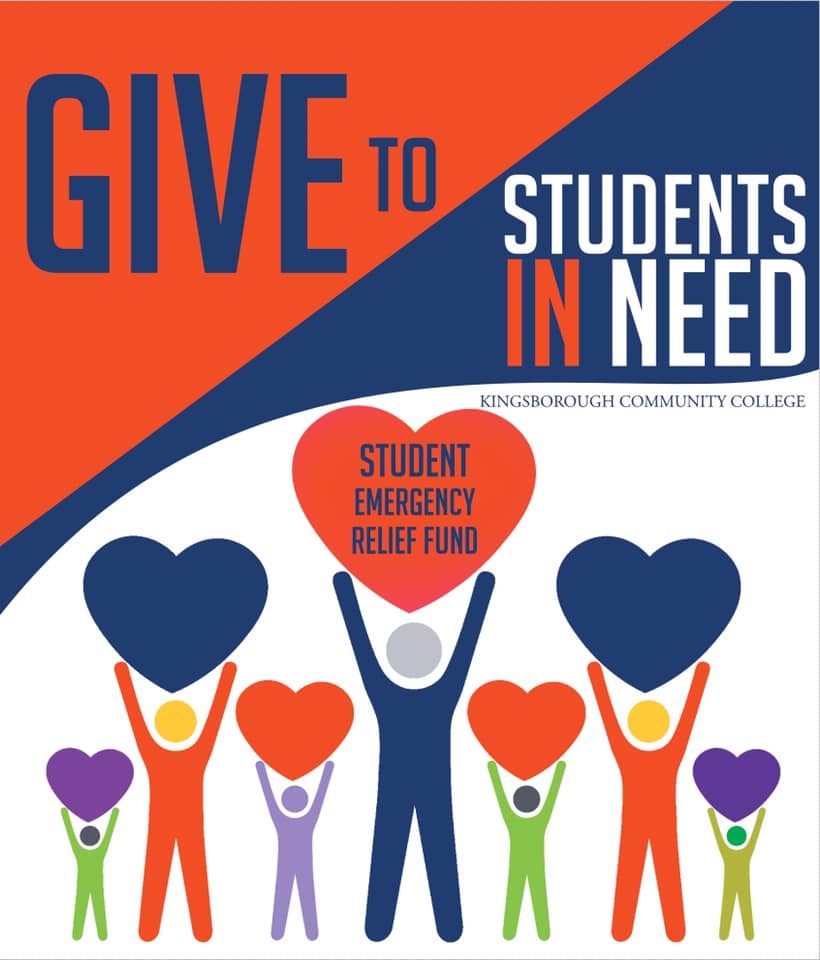 COVID-19 and KCC
During this time of crisis and uncertainty, our connections to each other are more important than ever. Please know that you and your fellow KCC alumni are at the forefront of our thoughts, and we wish you the very best as we navigate the difficult days ahead.
Due to COVID-19, KCC has been forced to make some major changes, just as all of us have had to in our lives. Faculty and staff are now operating remotely, with classes continuing online through the spring and summer semesters. We have also had to postpone major events like Commencement and the Seaside Splash Fundraising Gala in June.
Over the past few weeks, many alumni like you have kindly inquired about how to support our students affected by this crisis, who now find themselves out of a job and unable to afford basic necessities such as groceries and essential medications or lack the tools required for distance learning, such as laptops, Wi-Fi access and/or materials and equipment for their studies.
To address this problem head-on, we have created the KCC COVID-19 Student Emergency Relief Fund to help students recover financially and stay the course academically. We understand that you are not without challenges. However, if you would like to support our talented and hardworking students in need, as their livelihood and dreams hang in the balance, please donate here.
We hope that you and your loved ones stay safe and healthy as we battle the crisis together, knowing that brighter days are on the horizon. We look forward to seeing you during safer times.
---
Salute to Our Alumni Heroes – Tell Us Your Story
Today, Kingsborough has thousands of alumni (Nursing, Surgical Technology, EMT and various others) who have been working tirelessly during the COVID-19 pandemic, risking the wellbeing of themselves and their families to help those in desperate need. Such first responders are pushed to their limits, physically and mentally, as they brave the frontlines of this global health crisis.
KCC couldn't be prouder of these alumni heroes. They have our undying gratitude and praise for their efforts, along with our heartfelt prayers for their continued safety and health.
Below are just a few examples of KCC alumni making a critical difference in these challenging times:
Medical Supplies
Alicia Trust (Liberal Arts, '96), the Chief College Laboratory Technician in our Department of Biological Sciences, with the help of her colleagues, collected hundreds of gloves, goggles, hospital grade disinfectants and hand washes, and lab coats, typically used in the microbiology and other labs at KCC, to donate to local hospitals.
Intensive Care
Later, instructor Steven Trust RN (Nursing, '14), (pictured above) personally delivered those much-needed supplies to NYC Health + Hospitals/Bellevue Hospital, where he works on the frontlines as an ICU nurse saving the lives of critically ill COVID-19 patients.
Childcare Solutions
In her role as Senior Executive Director of NYC Department of Education, Vanda Belusic (Early Childhood Education, '90) has worked tirelessly to open over 90 Regional Enrichment Centers to provide childcare to the children of first responders and essential workers throughout the city.
Tell Us Your "Frontline" Story
However you are making a difference in the fight against COVID-19, no matter the impact, big or small, we'd love to hear your story. Please email us at kccalumni@kbcc.cuny.edu.
We thank all of you for your efforts and pray for your safety. Remain vigilant, take care of yourselves and your loved ones. Together, we will get through this.
---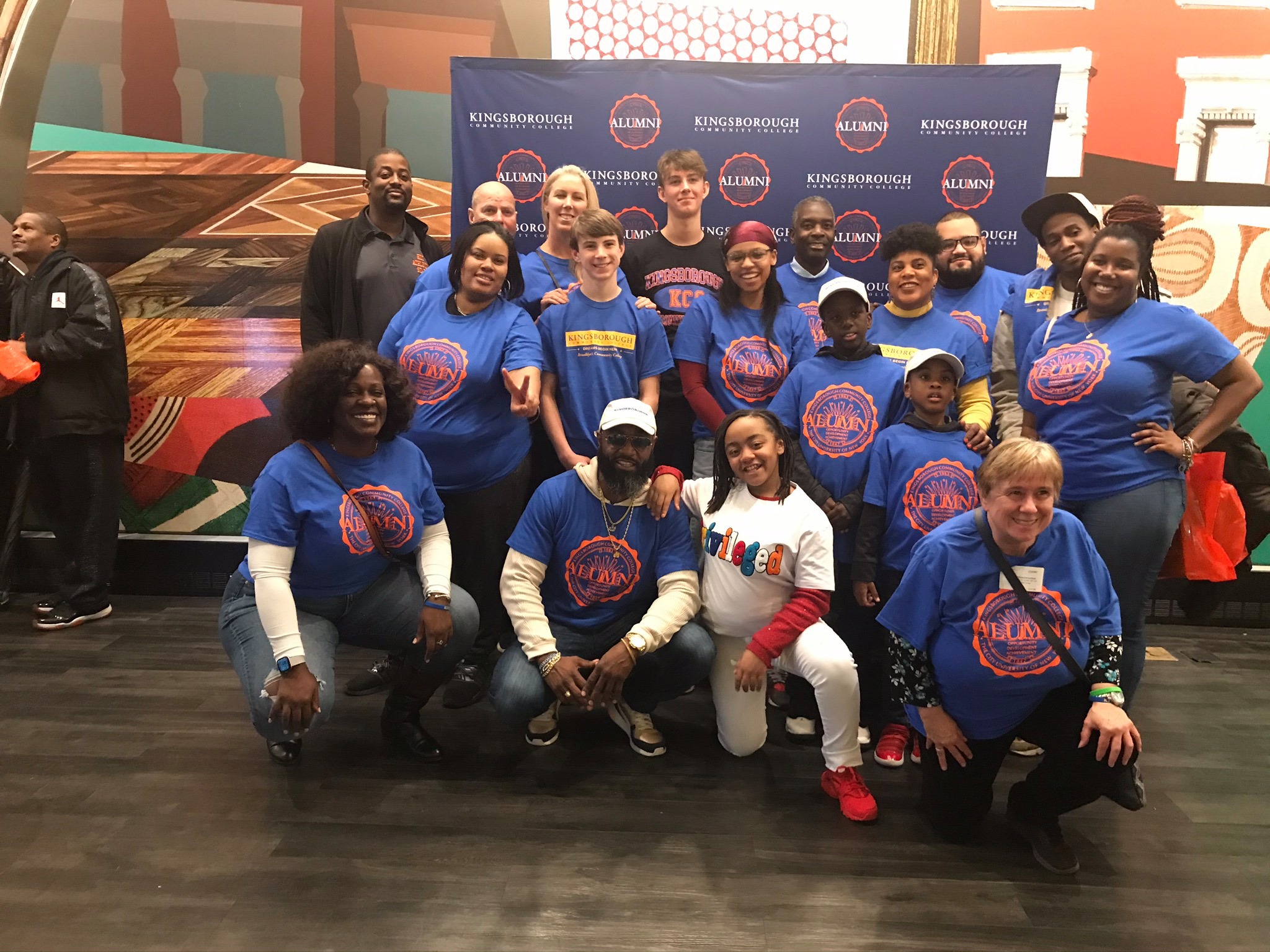 KCC Alumni Night at Barclays Center
On March 6, 2020, KCC President Claudia V. Schrader joined over 60 alumni for the first-ever KCC Alumni Night at Barclays Center. Whether they hailed from the Class of 2019 or the Class of 1969, these proud alumni cheered as the Brooklyn Nets routed the visiting San Antonio Spurs 139-121.
The evening kicked off with KCC alumni and their guests accessing the arena through a VIP entryway and escorted to a reserved area for a pre-game social. The social provided alums a chance to mingle, receive KCC t-shirts, pose for photos, and enjoy everything from Nathan's hotdogs to lobster rolls.
Sadly, due to COVID-19, the current NBA season has since been postponed. When the season does resume in earnest, we hope the Brooklyn Nets remember that KCC alumni cheered them to a great victory. Coincidence? We don't think so.
For more pictures, click here.