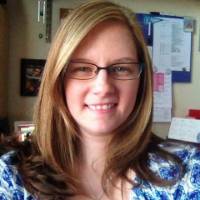 Biography
Tara Thompson, is Co-director of the ACE Program and Program Director of ESL 91. She is an Instructor of ESL, Developmental, and Freshmen Composition courses at Kingsborough Community College. Her research interests focus on the spectrum of ESL and Freshmen English through a culturally relevant, multimodal curriculum.
Mrs. Thompson has previously taught at CUNY Queensborough Community College and Northern Virginia Community College.

Courses
ESL 82, 91
English 82, 91, W, R, 04, 12, 24

Education
Teachers College, Columbia University
E.d.D.C.T. English Education (2016)
George Mason University
MA in English Literature (2008)
George Mason University
BA in English and Medieval Studies (2007)

College Teaching
CUNY Kingsborough, ESL 82, 91, English 82, 91, W, R, 04, 12, 24 (Fall 2008 - present)
Manhattanville College, School of Education – Seminar Guest Lecturer (Spring 2014)
Teachers College, Columbia University, English Education – Teaching Assistant to N. Sousanis (Fall 2013)
CUNY Queensborough, English 101 (Fall 2008 - Spring 2009)
NVCC Alexandria, VA English 101 (Fall 2007 - Spring 2008)

Selected Publications and/or Other Resources
2007-2008 Assistant Editor, So to Speak
National Conferences
Thompson, T. (2014) Seeing and Believing: Re-imagining Pedagogy through Visual Literacy Practices. Presented at the Transitions and Transactions II Conference, BMCC. New York, NY, April 27, 2014.
Thompson, T. (2013) The Words I Never Said: Centering Assets, Powerful Literacy Models, and Youth Voice in Urban English Education. Presented at the National Council for the Teachers of English's Conference "(Re) Imagining the Future of English," Boston, MA, November 24, 2013.
Thompson, T. (2012) Comics: Teaching Beyond the Panels. Presented at the Transitions and Transactions Conference, BMCC. New York, NY, April 21, 2012.

Research Interests
Composition Studies and English Education, Critical Literacy Studies, Culturally Responsive/Sustaining Theories, Multicultural Literature/Literary Theories, Popular Culture/New Media Cultures, Multimodal Curriculums/Visual Literacy, Qualitative Research Methodologies in Education, Social Sciences, and the Humanities, Critical Discourse Approaches, Critical Ethnography, Teacher Research/Action Research/Youth Research

Awards Recognition, Distinctions and Grants
Recipient, Lannan Poetry Fellow, Folger Library Poetry Series, Washington D.C. (2007)

Institutional Affiliations / Professional Societies
National Council of Teachers of English (NCTE)

Personal Interests
Traveling, reading, writing, poetry.